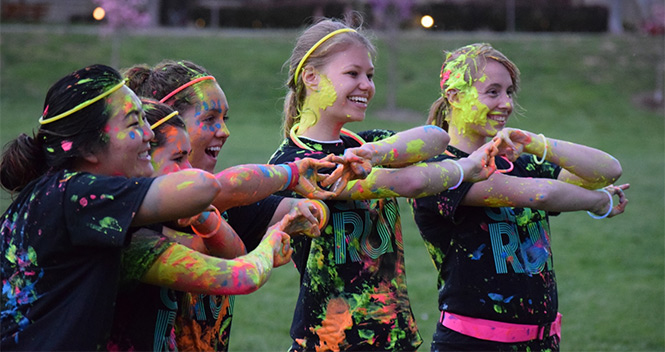 THINGS TO CONSIDER WHEN HOSTING A 5 K COLOR RUN USING OUR COLOR RUN PAINT™
What Surface is Your Run On?
First you should know that our Color Run Paint™ is a water-based, non-toxic, environmentally friendly paint which has passed the strict safety standards of ASTMD-4236 which proves it is safe to use. In addition, our paint has been used over thousands of events by millions of people for many years so it is field tested and proven. Here is some information on the different types of surfaces our paint is used on and things to consider:
Grass – Color Run Paint comes completely off all grass without any problems. If you have any concerns a mild spray down (or even rain from mother nature) will clean off all grass
Concrete – Color Run Paint comes off all concrete – (However, newly poured concrete can leave residue stains as it is sprayed with a white sealer that is porous). Again if you wish you can spray down with water or let mother nature take care of any residue.
Black Top – Paint comes completely off with no issues.
Sand – If the sand is wet, it can be hosed down and the paint will disappear. If the sand is dry, the paint can ball up some so you may need to rake it. A really good spray down could help a lot.
Other Surfaces - If you are working on a different surface not discussed here, we recommend you do a small test pattern in an inconspicuous area to see results before mass use.

How Much Color Run Paint™ Should You Buy?
Let us consider how many people you are having and what is your budget? Here is a general guide to help you decide how much paint to purchase based on our standard recommendations:
200-250:
For a 200-250 person color run, we would recommend purchasing 4-8 units of our 5 Gallon Color Run Paint™ along with a set of our Water Canon Guns (which come in packs of 4).
500-600:
For a 500-600 person run, we would recommend 12-14 units of our pails of paint and 2 sets of our Water Cannon Guns. As you can see the average needed is one 5 gallon pail for every 50 people
1000+:
For 1000 person event it would be advantageous to buy the 20 pails of paint. Please contact us if you are having this sized event for special pricing.
Need Add Ons and Upsells?
If your event is for charity and/or if you are looking to gain crowd participation, you may consider our 16oz bottles of Color Run Paint™. They come with flip top caps so people can open and squirt on people. Many of our customers will sell these for $10-$20 each and that way those who want to participate can donate. For more information on sizes and colors, (click here)
Can the Paint be Diluted?
Yes. We recommend from 10-20% for the best paint consistency. However, some entertainment companies will dilute the paint up to 50% but we don't recommend doing that for nighttime events where you want the UV glow effect as when you dilute the paint you are diluting the concerntration of the fluorescent pigments.
Is your 5 K Color Run Daytime or Nighttime?
While most planners who do color 5K runs in the daytime, some like to have them run into the evening hours , b
reak out the fluorescent black lights, and have a Huge UV Paint and Blacklight Glow Party at the end. This is done bybasically having the participants run to the event usually with a stage, a dj or band, and there the 5K color run turnsinto a paint rave event where either everyone can squirt everyone with paint or there are people staged with the Water Cannon Guns and 5 gallon pails to shoot the crowd (like you did during the run). If your crowd is large andyou want to get really fancy, you can even use the HI Powered Party Paint Cannons from the stage to make the event real grand finale. Don't forget you'll need blacklights (Ultraviolet Lights) for your nighttime party to make the paint appear to glow.
What About Clean Up?
Using our Washable Color Run Paint™ makes the clean up really easy. The paint becomes very unstable when introduced to water so it will begin to disappear. If you get lucky and it rains, Mother Nature may even do the trick for you. If not a gentle spray down of the area will work great. If you have any further questons or need more information, feel free to contact us (click here to contact us).