Planning a 5 K Color Run? A Fun Run is an excellent way to get whole communities together to promote both health and happiness, important charity or awareness, or just enjoying life by creating an entertaining and eventful color fun run.
Whether your run is during the day or at nighttime, We'll be glad to help you by providing you with our top quality Color Run Paint™ and our excellent customer service which is second to none. With over 30 years experience in paint manufacturing, we have formulated a paint that is very washable, UV (Ultra Violet) reactive, and will shine bright fluorescent neon in daylight and glows bright under black light(s) in darkness or at night. While some events will use a colored powder to throw or shoot into the air, our Color Run Paint™ works better as it generally cannot get into the lungs which could cause serious reactions or illness. It is very washable unlike most powders, and it glows under blacklight in darkness.
The colors we offer are fluorescent neon red, yellow, green, blue, orange, pink, purple and white. These come in 2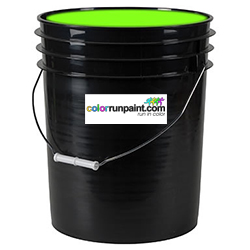 types to choose from:
One type we call Washable Color Run Paint™ is one of the most washable and safest paints on the market today. It will leave only mild stains on light colored clothing and washes easily off hair and skin so it is excellent for clean up on people and on the environment as when the paint reacts with water, it becomes unstable which makes it so washable.
All of the colors glow excellent under black light as even the blue and purple have been augmented with optical brighteners (as there is no natural fluorescent blue and purple).
The other type of Color Run Paint™ is our UV Effects paint. It has much better hiding (opacity) so it appears brighter during the day on skin and T-shirts. This paint is also good for some types of designs and streaks if people want to paint themselves before a 5K color run.
We sell the Color Run Paint™ in 5-gallon pails, and 16oz bottles. Some of our Event Planners like to set up stations with the 5-gallon pails. water blaster cannon guns.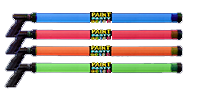 Water Blaster Cannon Guns
click to purchase This is an excellent and less expensive method for controlling and containing where the paint is to be squirted. You can have one person on each side of the path with a water blaster and a few pails of paint to really soak the runners well. Another method is to use the 16oz bottles to have people squirting the runner or even the runners squirting each other. Both are excellent so it is just a matter of preference. In fact some event planners just have UV Glow Party Events after the fun runs.
We stock the 5 gallon pails and 16oz bottles so our turnaround time on shipping orders is usually the next business day.
Please CONTACT US right away for more information or to place an order you can visit our store